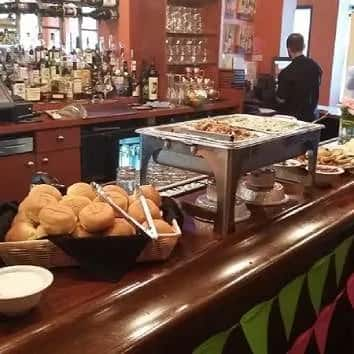 Tino's Catering on the Fourth of July
Tino's Catering on the Fourth of July
Another hot Maryland summer is finally upon us, and the Fourth of July is fast approaching. And whether you're hosting a family gathering, office party, or a social club event to celebrate the Fourth, professional catering can enhance any holiday event.
When planning a menu for a Fourth of July celebration, your choices are as varied and diverse as America itself. But, it's hard to go wrong with classic, crowd-pleasing favorites such as:
Meaty main courses. BBQ, burgers, ribs, and hot dogs are perennial favorites, and well suited to self-serve, buffet-style catering.
Salads on the side. Whether it's a classic potato salad or a fresh garden salad loaded with leafy greens, a hearty side salad can serve as a complement to your main course, or even substitute as a main course for your vegetarian guests.
Festive desserts. Reinforce your event's patriotic theme with colorful red, white, and blue dessert items such as pies, cakes, or fruit kabobs. Don't forget the apple pie!
An assortment of beverages. If your venue allows it, and your catering service is properly licensed, you can serve beer, wine, or refreshing summer cocktails at your event. Just be sure to provide non-alcoholic alternatives, like sodas, iced tea, or lemonade.
Your choice of menu items and catering style will be influenced by factors such as the venue, the time of day, and the theme of your event. Are you hosting a midday barbecue, or an evening gathering to watch the fireworks? Is your theme country rustic? Simple summer elegance? Or old-school Americana?
At Tino's Italian Bistro, we're proud to serve Howard County and surrounding areas, and we've got the flexibility to accommodate a variety of menu plans and catering styles. From formal catering to buffet-style and pickup catering, we've got you covered. Contact us today and find out how we can add a professional touch to your Fourth of July event. Check out our catering menu and options.